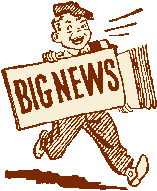 Appearances and Events
January 1, 2017--Nick's Third Album, "Never Time" becomes available on iTunes, Amazon, Rhapsody, CDBaby, YouTube, and other music outlets. It's the third CD in a trilogy that includes, "I Shouldn't Be Singing This Song", released in November, 2015, and "Second Wind", released in May, 2016.
February 19, 2017--Nickís giving a very brief version of his "How to be Happy" talk at the Berlin Township Community Center in Beach Lake, PA. Itís free, open to the public, and sponsored by The Upper Delaware Unitarian Universalist Fellowship. The meeting begins at 10:15 AM. For directions visit www.uduuf.org/directions.
Ongoing--Nick teaches an eight week course, "How To Be Happy" Class at the Artists' Market Community Center in Shohola, PA. CLICK HERE for the next available seats.
Nick attends the monthly "Creative Conversations" discussion group and "Songwriters Anonymous" group at Artists' Market, and hosts the monthly receptions there.
Recently--Nick was a guest on Tim Bruno's "Culture Club" on WJFF Radio. Click Here to take a listen.
---
| Return Home | Nick's Music | About Nick Roes | Upcoming Events | Contact Us |